FREE SHIPPING IN SA FOR ORDERS OVER R1500 | SHIPS IN 10-14 WORKING DAYS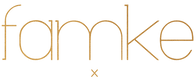 FOR
general enquires
For all customer service & general enquiries please email our shop at info@famke.co.za and one of our sales staff will get back to you shortly.
Alternatively, you can reach out to us via the contact form below.
FOR
custom commissions
For all custom enquiries please email famke@famke.co.za to discuss your needs. Please note: our jewellers are available strictly on an appointment basis.
CONCEPT STORE
13 Park Road,
Gardens
Cape Town
-
T. 079 978 5078
-
Mon - Fri: 08:30 - 16:00
Sat: 09:00 - 14:00